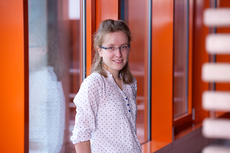 Curriculum Vitae
Dr. Daniela Beyer studied political science with a quantitative focus at the University of Mannheim before she enrolled in an interdisciplinary Master's course of International Affairs (international economics, political science, history and languages) at Johns Hopkins University's School of Advanced International Affairs (SAIS) in Bologna.
After graduating SAIS, Daniela Beyer worked as a scientific researcher at the Department of Comparative Political Science at the University of Konstanz. At the same time, she obtained her doctorate at the Graduate School of Decision Sciences. During the fall semester 2015, she was invited to Duke University as a Visiting Scholar, N.C., U.S.A. . Her PhD thesis focused on explaining the influence of European integration on decision-making and agenda-setting processes in the member states.
Daniela Beyer has regularly been teaching introductory and advanced seminars on various topics since 2013, developed a reader on academic writing for and in collaboration with students and advised students working on their term papers and degree theses.
Since February 2018, Daniela Beyer works as scientific assistant to the director at the Fraunhofer Institute for Systems- and Innovation Research (ISI).